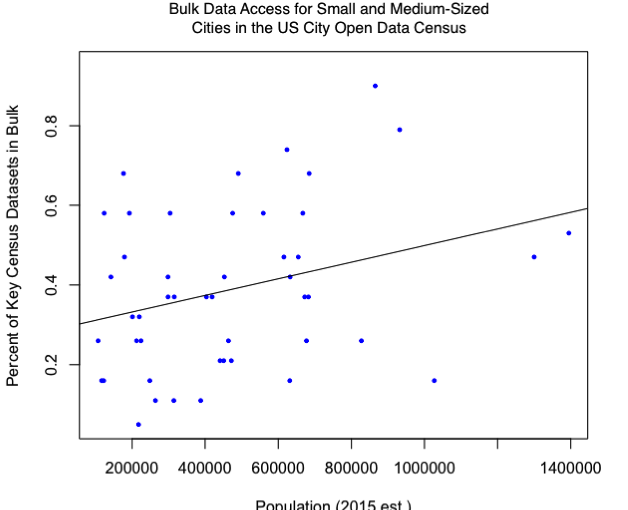 Today in OpenGov: Analyzing the state of cities' bulk data
STATE OF THE STATES: Sunlight's Richard Yarrow dug into the U.S. Open Data Census and came up with an insight: open data indicators frequently are correlated with the population of a municipality. "In other words, whether one is looking at the overall scores on the US City Open Data Census or at expert evaluations of a city's open data program, cities with larger populations tend to do better at implementing open data." [READ MORE]
.@libbycwatson with a quick update from #RNCinCLE -- (almost) on a boat. #SLinCLE pic.twitter.com/nn2na10sUV

— Political Party Time (@SFpartytime) July 20, 2016
PARTY TIME
: Sunlighters Libby Watson and Josh Stewart are at the 2016 Republican National Convention in Cleveland,
exploring the scene and the parties,
with an eye on money in politics and influence. Including boats. [
READ MORE
]
ONLINE: The Library of Congress' websites are back online after fending off a denial of service attack over the past 48 hours. "This was a massive and sophisticated DNS assault, employing multiple forms of attack, adapting and changing on the fly," wrote the Library's CIO, Bernard Barton Jr. "We've turned over key evidence to the appropriate authorities who will investigate and hopefully bring the instigators of this assault to justice." [InfoDocket]
National
We added new features to https://t.co/4IExu8MI6X! Itemized receipts & disbursements are now available for download. pic.twitter.com/CDOG8xYSo8 — The FEC (@FEC) July 20, 2016
State and Local
International
Let's keep fighting for good governance & strong institutions The bedrock of sustainable #GlobalDevelopment @POTUS pic.twitter.com/EhWYuAcjid

— Open Gov Partnership (@opengovpart) July 20, 2016
President Barack Obama touted the Open Government Partnership at today's Global Development Summit in DC. [White House]
Speaking of the Open Government Partnership, the multilateral global initiative is asking for governments and civil society organizations to send them videos describing "concrete examples" of achievements, challenges and visions for the future in English, French and Spanish. If you have them, please share! [OGP]
Tired of your boss/friend/intern/uncle forwarding you this email every morning? You can sign up here and have it delivered direct to your inbox!

We want to find and share the most important stories about open government around the world from the past 24 hours here. To do that, we'll need YOUR help. Please send your tips and feedback at ahoward@sunlightfoundation.com. If you would like suggest an event, email us by 7 am on the Monday prior to the event.
Source : ADEC - Open data