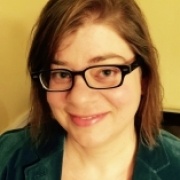 OpenGov Voices: From open shelves to open data at TransparencyCamp 2016
The public library has long been viewed as a place of learning, reading and critical thinking. Libraries are considered by many to be a safe place for debate and for the exploration of ideas different from one's own. Further, librarians as a species embrace neutrality and fiercely defend access to information in all formats.
The Cleveland Public Library is positively thrilled to be the host of this year's TransparencyCamp on Oct. 14-15, an "unconference" run by the Sunlight Foundation that will focus on openness in local and regional government. (Grab your tickets today!) We feel strongly that it is our job to promote the open and free exchange of information. Given the unconference spirit and eagerness to engage people from all walks of life, TransparencyCamp is a natural fit for public libraries. We sincerely believe that public libraries are the community institutions that are in the best position to encourage data literacy, provide data stewardship and promote the free and open exchange of data that is neutral and ongoing.
The Cleveland Public Library is one of few public libraries that has a location within city hall. The Public Administration Library celebrated its centennial in 2012, and over the last few years we have pondered what it means to have a role in civic conversations going forward. The opportunity presented itself with the formation of Open Cleveland, Cleveland's Code for America brigade.
The library has been in partnership with Open Cleveland since its inception almost two years ago. From holding meetings in library spaces to hosting multiple Open Data Day and National Day of Civic Hacking events, the library is a strong believer in the positive outcomes that can flow from a focus on open government and open data.
Earlier this year, Open Cleveland won a competition to design and implement a meaningful index and search tool for local government documents. Though the project will be started and put into production by Open Cleveland members, it will be turned over to the library for ongoing support and stewardship long after the development is completed. Projects like these offer public libraries the chance to support existing work around transparency and open government that is already happening.
Being part of Open Cleveland as both co-captain and librarian has been eye-opening for me. There are so many ways that public libraries can be involved in the conversations happening in this space that are beyond development. We can be active participants in the democratization of data in ways that are unique to public libraries. We want to see librarians from across the country at TransparencyCamp this year because we know that great things can happen for our communities when more people are at the table.
Sometimes when I talk with people about open data they will throw up their hands and say that since they don't write code, there isn't a place for them in this space. There is sometimes a perception that talking about transparency in government and open data is something that only civic technologists and government officials do. What is so personally exciting to me about TransparencyCamp 2016 being at a public library is accessibility. The public library is a place where people are already learning and are comfortable participating in community conversations. When we match that up with the power of TransparencyCamp, the possibilities are endless. Open shelves to open data in 2016. That's what it's all about.
Interested in writing a guest blog for Sunlight? Email us at guestblog@sunlightfoundation.com
Source : ADEC - Open data